Luxury Vinyl Plank Flooring
Many of us are admirers of hardwood flooring and its many attributes, but hardwood flooring isn't a reasonable goal for all of us, especially those of us living hectic or budget-conscious lives. Not to worry: you can still enjoy all of your favorite looks, no matter how many pets or children you have. Even if you have a tendency to spill things, you'll never cry over spilled milk with luxury vinyl plank.
A manufactured alternative to actual hardwood plank, luxury vinyl plank can handle it all. Designed to look and feel exactly like hardwood, luxury vinyl plank is easy to take care of and is, in many ways, even better than the real thing. If you are constantly on the go and constantly entertaining, we highly recommend luxury vinyl plank flooring. It is extremely sturdy, is simple to keep clean, and offers up styles and colors designed to complement all different spaces and styles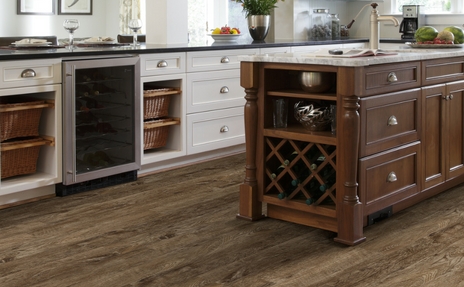 Easy-Care Luxury Vinyl Plank Flooring
There are many, many different benefits of having luxury vinyl plank flooring. Vinyl plank flooring was inherently designed stay put and will remain fully intact: even when it's installed in your toddler's room. This is a floor that can go everywhere- even in your basement or boudoir. Vinyl plank was crafted with strength in mind, and is perfect for those who don't wish to obsess over their flooring. Truly no-fuss, this floor can simply be wiped clean with a damp mop.
Enduring Luxury Vinyl Plank Flooring
Luxury vinyl plank has all the visuals and dimensions you're seeking, whether your style is contemporary or classical. With a wide array of styles, lengths, finishes, and widths, luxury vinyl plank can easily be customized to create the look you long for. With luxury vinyl plank, you can rest knowing that your brand new floor is going to last, even when surrounded by your extended family! Unlike hardwood, luxury vinyl can withstand water now and then: it won't buckle or bend after a splash or spill. It doesn't easily dent, even when confronted by dancing feet, and is made to hold strong against humidity or extreme cold. It is also extremely soft underfoot.
Our Luxury Vinyl Plank Flooring Selection
With our ever-expanding inventory of vinyl plank flooring, Foote Bros. Carpet One Floor & Home is your local source for practical, yet pretty alternatives to actual hardwood flooring. We carry all your favorite flooring brands in our showrooms: located at 200 West Meighan Boulevard in Gadsden and 1018 US Highway 431 in Anniston, AL, respectively. Call us today to schedule your FREE onsite project estimate.